Submit URL
You can submit URL to the MoreFunz. Submission order will be considered for a week. Please, don't submit a URL multiple times. Unfortunately, we do not report a results. Listing is free for non-commercial and paid for commercial websites. If there's questions during submission process you can ask us through Contact page.
Before submit URL (website) please do a search - possibly your website is already joined. Try Submit a URL to the Google search engine by the URL submission tool.
You might study FAQ and Privacy Statement pages.
Shortly about the Rules for submissions
Fill fields in English. If language of the page differs, make the description in English.
We accept already working websites.
We don't accept sites of: adult content; calling for violence; calling for racial and religious hatred; calling for humiliation of the personality; with the unsafe contents for children; phishing or fraud. See FAQ.
You must have a email address for contact.
Accepted sites that 1 Year old or more.
Our Web Directory recommend to use at submission a clear description and keywords. It helpful for SEO.
MoreFunz Software
MoreFunz web directory uses the MoreFunz Manager HTTPS application to process submission orders. It automates the process of checking sites. The checking website for a many features.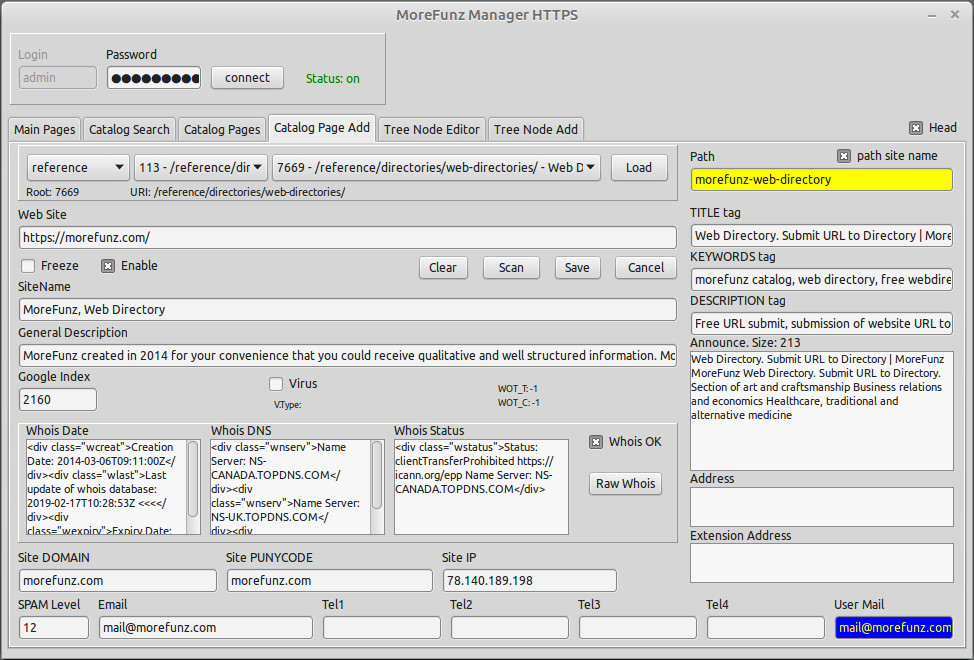 (click to expand)
Submission Form